New' Broadmoor opens over 150 years after its 'predecessor'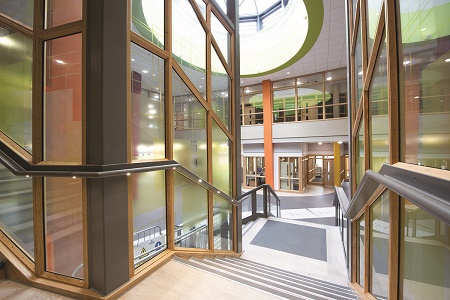 Patients and staff have moved into the new, 'state-of-the-art' Broadmoor Hospital, which replaces the old hospital, most of whose buildings pre-date the foundation of the NHS.
Constructed by Kier, and opened over 150 years after the original hospital was established, the new hospital will provide multidisciplinary treatment for up to 210 men aged over 18 with mental illness and personality disorder, who 'represent a high degree of risk to themselves and others'. Located in the existing grounds to the west of the old site near Crowthorne in Berkshire, the hospital has been purpose built for the West London NHS Trust to provide psychiatric care and rehabilitation in a high-secure setting. Average stay length is five and a half years.
There are three new ward buildings incorporating 10 wards, ward gardens, an entrance building, and a central building, where patients can undergo a range of therapies, and vocational, educational, and physical activities. Facilities in the central building include:
A café, shop, and hairdresser;
Woodwork, pottery, and craft rooms;
Classrooms for education and vocational training;
A multi-faith sanctuary;
A physical healthcare area, where patients can see a GP and a dentist.
Carolyn Regan, CEO of the West London NHS Trust, said: "The new hospital epitomises the ethos of hope and recovery at Broadmoor. With its focus on the use of space and natural light, it has been designed to reflect this ethos, but it is, above all, the people who make the difference. The expertise, compassion, and calm professionalism of the staff are fundamental to the way they care for and work with patients towards their rehabilitation and recovery. The new hospital enables us to provide this care in an environment fit for the 21st century over the coming years."
Staff, patients and carers were closely involved in the design and artwork, 'focusing on wellbeing and safety', with key features including:
• Spacious ward areas, with plenty of natural light and access to ward gardens;
• A modern layout, which allows staff to observe patients effectively and maintain a safe environment;
• A multidisciplinary team located on every ward.
The old hospital – much of it dating from the 1860s, was acknowledged to be 'unfit for the effective, safe care and rehabilitation of patients'. The old buildings were 'poorly configured', and 'lacked basic standards of dignity, privacy, cleanliness and amenities', while the layout presented risks to staff safety, with poor sightlines.
In 2009, the Care Quality Commission highlighted concerns 'about the buildings, beds, layout, and healthcare' at Broadmoor, recommending redevelopment 'be progressed without delay'. The Trust said: "A new hospital was considered both the most financially viable option, and the one which would best allow us to modernise services and create an environment fit for delivering 21st century high-secure care."
Other features include:
Disability access to all areas;
Dedicated visiting rooms on the wards, plus a 'main visits' suite;
Comfortable, spacious, and private waiting areas;
An improved child visits suite, close to the main reception, with an enclosed outside garden.
Other News