Plans for new 'centre of excellence' for children and young people's health in south London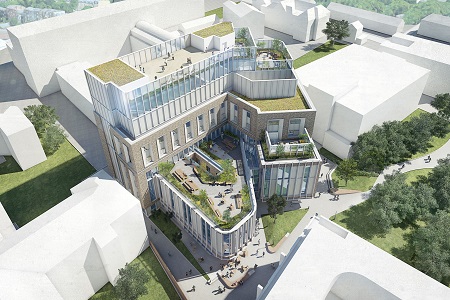 Plans for 'a ground-breaking' new £65 m centre for children and young people's mental health in south London's have recently been launched. The Pears Maudsley Centre for Children and Young People will bring together, under one roof, 'the world's leading experts in clinical care and research' from South London and Maudsley NHS Foundation Trust (SLaM) and King's College London's Institute of Psychiatry, Psychology & Neuroscience (IoPPN).
With a long history of working together, the two organisations say their goal is to create 'an exceptional centre of care for young people, with a focus on the potential of research to identify mental health difficulties early, and transform the treatment and care of children and young people in the UK and across the globe'. Today, 1 in 8 children and adolescents are estimated to have a mental health disorder, and 50 per cent of adult mental health problems begin before the age of 15.
Based at the Maudsley Hospital in Denmark Hill, the new building will house the Institute for Children and Young People's Mental Health at King's College London and the Maudsley. Providing space for high quality mental healthcare, it will be designed to enable clinicians and scientists to collaborate, share ideas, and identify treatments, 'that make a real difference to the lives of children, young people, and their families'.
Teams and individuals from the two organisations will come together to undertake research to better understand the causes of mental health difficulties, the aim being to halve the time it takes to bring children and families new treatments. The initial focus will be on mothers and babies, child trauma, self-harm, attention deficit hyperactivity disorder (ADHD), obsessive compulsive disorder (OCD), autism, anxiety, depression, and digital technologies. Both organisations say they will ensure that the findings of their research have long-term impact through education, policy change, and public engagement.
Professor Ian Everall, executive dean of King's IoPPN, said: "Difficulties in childhood influence adult life, so it's really important to intervene early. The centre will provide an ideal home for our team of clinicians and researchers, so they can really make an impact on the lives of children and young people into adulthood. Our new building is cleverly designed to encourage connections and collaborations, which will speed up the time from research to clinical care."
The building will also house the Bethlem and Maudsley Hospital School, which provides 'highly personalised' education for young people while they are inpatients. The establishment of the Institute, and the creation of the Centre, have been made possible through the support of philanthropic foundations and individuals 'keen to improve the mental health of future generations'.
The Pears Maudsley Centre for Children and Young People will be funded by a combination of investments from South London and Maudsley NHS Foundation Trust and King's College London, large donations, and a public fundraising campaign being launched later this year.
In addition to an initial £10 m grant from the Maudsley Charity, two family foundations have made very significant pledges. The Rayne Foundation made a catalyst gift to the campaign in October 2019, 'committing a significant sum' to the building, and has an interest in additional research funding, while in January, The Pears Foundation committed a lead gift of £5.5 m. The Centre will be named in recognition of the Pears Foundation, and the project partners' 'ongoing partnership' with the Pears family.
To date over £18m of philanthropic gifts have been committed in principle, and a major fundraising effort is ongoing, 'to ensure that the Centre can create an inspiring and appropriate environment for the families and staff who will use the building, and to fund a wide programme of research, education outreach, and clinical innovation over future years'.
IBI Group's London studio has been appointed scheme architect on this exciting and ambitious project.
Other News