Testing guidance should enable informed buying choice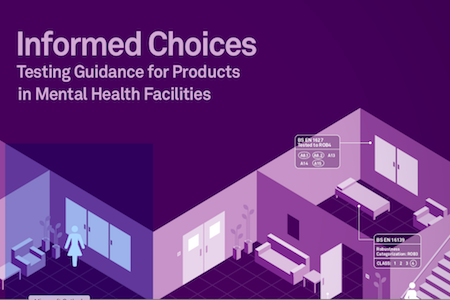 The Design in Mental Health Network (DiMHN) and the BRE say that, following the BRE Board's detailed scrutiny of the two organisations' jointly-produced draft guidance on performance testing of products used in mental healthcare settings, they aim to publish the final guidance document, Informed Choices. Testing Guidance for Products in Mental Health Facilities, by the end of this month (April 2020).
The new guidance – part of the DiMHN's Design With People in Mind series – will provide detailed information on how to test the ligature risk and robustness of a broad spectrum of products used in mental healthcare facilities, as well as focusing specifically on the cleanability of windows – such as those incorporating a mesh – and their light and air transmission characteristics, and on the anti-barricade properties of doorsets.
DiMHN Board member, and Innovation & Testing Workstream lead, Philip Ross, explained: "Once the guidance is published, manufacturers will be able to refer to it to see what level of performance criteria their products should meet. They will also be able to draw on it for their own internal testing – for example to help them determine whether a new product needs further refinement or strengthening before going onto the market. However, for products to be certified as conforming to the new DiMHN and BRE guidance, they will need to have been independently tested by the BRE at its advanced Watford facilities – a process we hope can begin over coming months; when, however, will depend on the situation with the COVID-19 outbreak, and the associated restrictions.
"In refining the guidance," he continued, "we have worked with a number of stakeholders, including the Sussex Partnership NHS Foundation Trust, and had hoped, by now, to have visited some clinical healthcare settings to test some products in situ and discuss particular concerns or testing considerations with staff. Under the current 'lockdown', however, this has clearly not been possible.
"The new guidance's publication will be a significant milestone in making available to manufacturers some solid, well-conceived, and thoroughly evaluated testing guidance. The new publication should also prove invaluable to specifiers of a variety of products and components for healthcare settings – from clinicians, to estates and facilities personnel. Apart from affording them a clear idea of what performance characteristics a particular product type should possess to be safe and fit-of-purpose, they will be able to compare meaningfully the performance of BRE-tested products to help them make an informed buying choice."
'The DiMHN would like to thank the BRE, and in particular the organisation's former MD, Richard Hardy, Associate director, David Gall, and director, Construction, within the Fire and Building Safety Group, Neil Abbott, for all their input, expertise, and support, in making the new guidance a reality."
Other News