Product testing guidance will fill a key 'gap'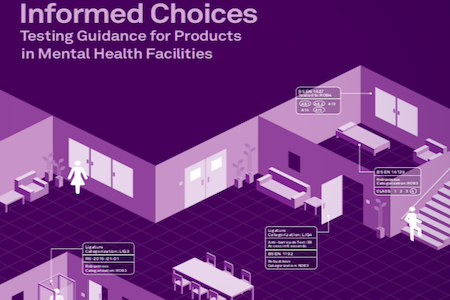 With the safety of service-users in mental health inpatient units critical, and often affected by the products selected for the built environment, coupled with what it perceives as a lack, to date, of clear guidance on product selection, 'or the ability to assess multiple options to improve such spaces', the Design in Mental Health Network (DiMHN) has 'partnered' with the Building Research Establishment (BRE) to launch a new guidance document, Informed Choices: Testing Guidance for Products in Mental Health Facilities.
Producing the new guidance has seen the two organisations work with over 150 'experts' across the mental health sector in the past five years, and has involved extensive consultation – including via stakeholder workshops held nationwide to obtain feedback on what was being proposed. The DIMHN's chair, Jenny Gill said: "We know that for those who are sourcing products for mental health environments, understanding whether they are suitable for the intended clinical strategy, and the environment into which they will be going, are key issues, and ones in which there is currently much room for improvement. It is essential that innovation is encouraged, and that new and existing products used in mental health environments are assessed for self-harm risks using an independent and repeatable format."
In this respect, this new Testing Guide aims to:
Ensure that patient and staff safety is not compromised 'via inappropriate selection of products for current and future use'.
Communicate product testing requirements to manufacturers to enable them to supply a product that is appropriate for the environment in which it is to be used.
Help procurement teams better evaluate manufacturers' products, to encourage them to adopt 'innovative solutions'
'Discourage the proliferation of expensive and time-consuming siloed testing by NHS Trusts and authorities'.
Provide performance categorisation criteria for products that contractors, specifiers, procurement teams, and manufacturers, can easily refer to.
Improve efficiency, and reduce design costs.
The DiMHN and BRE say that the Testing Guide will form the basic test methodology for a new certification scheme to be run by BRE, currently in the final stages of set-up, 'having been delayed slightly due to COVID-19'. It is hoped to be able to make this testing available as soon as Government advice allows. For more information, and to order a free copy of the Testing Guide, visit https://tinyurl.com/y77oz3v6
Other News