Woodland cabins in Norway offer 'physical and mental respite'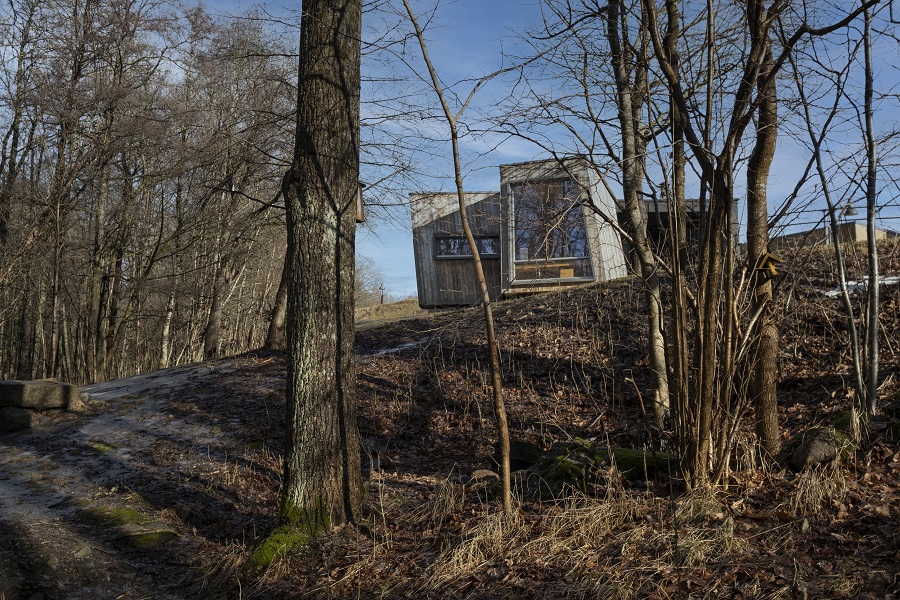 Located in verdant woodland just a stone's throw from the entrance of Norway's largest hospital, two sensitively designed wooden shelters are aspiring to make hospitalisation easier and more comfortable for patients and their families.
The two naturally crafted Kebony-clad outdoor care retreats offer patients and visitors much-needed physical and mental respite from hospital treatment by providing a calm oasis to rest in the beautiful Norwegian forest. Originally developed in collaboration with the Department of Psychosomatics and Child Psychiatry at Oslo University Hospital, the 35 m2 secluded wooden shelters were designed to provide a peaceful space 'where visitors can truly experience nature'. Kebony said: "Surrounded by fresh air, the unique natural setting allows patients to gather strength and nurture their mind, which can be of great benefit for long-term disease management and mental health."
Inside, visitors can 'star gaze' through the circular ceiling window, while children play around them, helping patients to distract themselves from the hospital environment. The large windows can be fully opened, while the interior is fully clad in oak, echoing the woodlands outside. The cabins have also been adapted for both wheelchairs and hospital beds.
Architecture and design firm, Snøhetta, selected Kebony – reportedly 'a global leader' in the production of sustainable wood, to clad the cabins' exterior due to the wood's natural, warm aesthetic. Kebony added: "In addition, the extensive use of the sustainably-sourced Kebony contributes to the cabins' reduced carbon footprint, and requires little to no maintenance. The atmosphere inside the cabins is both warm and welcoming."
Developed in Norway, Kebony's 'revolutionary' technology is based around an 'environmentally friendly' patented process which modifies sustainably sourced softwoods by heating the wood with furfuryl alcohol – an agricultural by-product. By polymerising the wood's cell wall, the softwoods permanently take on the attributes of tropical hardwood, including high durability, hardness, and dimensional stability. This process also provides Kebony with its characteristic appearance.
Kebony is suitable for both internal and external applications 'that demand high performance and great aesthetics', such as decking, flooring, cladding, roofing, windows, and indoor and outdoor furniture. Over time Kebony acquires a silver-grey patina, while maintaining its performance characteristics. A study by Norwegian environmental consulting firm Bergfald & Co. demonstrated that Kebony has a substantially lower carbon footprint than its tropical hardwood equivalents, with improved durability and dimensional stability.
Other News
Featured Supplier

Intastop Ltd has been leading the way in the specialist fields of anti-ligature products and door and wall protection for over 20 years. This pedigree, combined with the company's commitment to new product development and leading edge innovation, ensures Intastop remains a leading manufacturer and supplier to the healthcare, public and leisure...