Sliding windows give 'stunning results' at new £13. 5 m Maidstone facility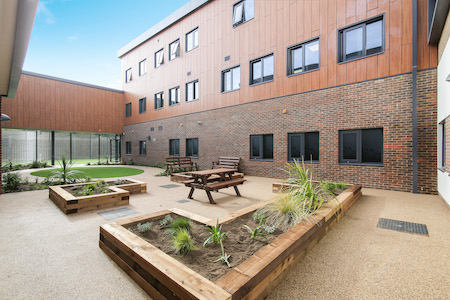 Leading secure window provider for medical establishments, Crittall-Fendor, says it worked closely with the architects throughout the design phase of Cygnet Healthcare's Cygnet Hospital Maidstone, supplying both its CleanVent and AlphaLine sliding windows for the £13.5 m facility. The low-level secure and rehabilitation unit, comprising four wards for up to 65 male and female patients, was designed by designed by Tangram Architects, a London-based practice specialising in facilities for medical and police services.
Crittall-Fendor's CleanVent sliding windows were supplied as both as inward and outward-opening cleaning variants, depending on their location within the building. AlphaLine sliding windows were also supplied, plus curtain walling, with integrated sliding and top-hung windows to non-patient areas. Doors have anti-finger trap profiles for safety.
David Whitehead, director of Tangram Architects, said: 'We worked closely with Crittall-Fendor in this project's design and delivery. It supplied secure windows designed for challenging environments with an innovative mesh screen detail for the ward environment over three floors." Describing Crittall-Fendor's specialist products as 'attractive on price', David Whitehead explained that the window specialist's Design Department had worked well with the architectural practice on earlier mental health projects. For this reason, it was chosen as a key member of the team to deliver the Maidstone hospital.
He added: "Crittall-Fendor is innovative and practical, and added value – working closely with us and the cladding sub-contractors during the detail design process in working up fully coordinated construction details to produce stunning results."
CleanVent are high specification sliding security windows, thermally enhanced with an anti-ligature frame and locking mechanism customisable to meet client requirements. AlphaLine windows are more suited to a rehabilitation environment with lower security needs.
Crittall-Fendor products have now been installed in a dozen hospitals around the UK managed by Cygnet Healthcare.
See more about Crittall Fendor Ltd
Other News