A successful Digital Week with an international flavour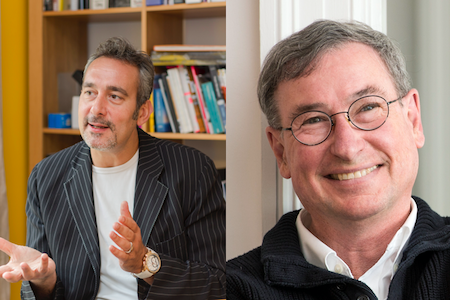 With the 2020 Design in Mental Health Conference, Exhibition and Dinner postponed to November due to the COVID-19 outbreak, the Design in Mental Health Network held a Digital Week from 8-12 June, comprising webinars presented by key sector experts.
Topics covered -- in a series of webinars co-organised by Step Exhibitions -- ranged from how construction of new mental healthcare facilities has progressed despite the lockdown, and some of the key tools available to ensure continued engagement when stakeholders cannot physically meet, to ways to advance anti-ligature design, and the importance of stakeholder input when designing mental healthcare spaces. In a number of cases, speakers explained, ongoing mental health schemes had had to be altered while in progress, to reflect guidance on social distancing.
A session on 'International Perspectives', chaired by Alex Caruso, MD of Alessandro Architecture and Interiors, saw the chair discuss his own practice's recent experiences designing for a range of service-users. While a project to add a two-storey extension to the Glebe House Surgery in north Yorkshire – expanding treatment and consulting room capacity – had had to be delayed due to the lockdown, this had 'provided a great opportunity to review the design in the light of the measures that can prevent COVID-19 from spreading'. Key design elements now include a wide main entrance canopy, to allow queuing outside the building and refuge from the elements, reception desks with glazed screens, a one-way system access and exit system, a main waiting area and sub-waiting area to the consult / treatment rooms to restrict the numbers accessing 'hot and cold' zones, and all ironmongery upgraded with an anti-microbial coating.
Alex Caruso also discussed several mental healthcare projects already completed by the practice, and some of the changes that had had to considered – from moving service-users with COVID-19 needing continuous oxygen to local acute Trust facilities, while considering the future need for more oxygen cylinder storage space, to creating staff changing facilities near entrances to allow for wearing of PPE. He also noted that with increased future anxiety among patients and staff, the standard of design of mental healthcare environments would become ever more important.
Other presenters in this international session included Francis Pitts, Principal at US practice, Architecture+, who noted 'some early lessons' from America's 'first brush' with the pandemic, that had already changed how architects practice, and caregivers collaborate, with 'some significant implications' for the planning and design of mental healthcare facilities. Andrea Brambila, an Architect and PhD Candidate at the Politecnico di Milano's Department of Architecture, the Built Environment, and Construction Engineering, discussed the pandemic's impact on Italian healthcare, while two architects from the Perth, Australia studio of multidisciplinary architecture, design, and urban planning practice, Hassell, Morag Lee and Jeff Menkens, described the practice's work to 'carry on business as usual' during the current restrictions, and the methodologies put in place to look after both staff and clients.
DiMHN chair, Jenny Gill, said: "Many people logged on to the webinars during a very interesting and informative Digital Week, to hear from global experts in mental healthcare design – architects, interior designers, manufacturing and construction personnel, NHS estates and facilities, planning, and strategic projects staff, academics / researchers, and experts by experience.
"Much of the week naturally focused on pandemic-related changes to working practices and future requirements for services. The international presentations gave an insight into the effects, and different countries' responses, and the way our professions have responded. What was clear and very heartening was how we have all risen to the challenges, particularly in embracing technology – which too has advanced rapidly, and that there is a desire to keep the efficiencies gained with digital meetings in particular, which allow for more stakeholder participation.
"A number of messages – such as the need for greater flexibility and space within mental healthcare units – were repeated, and I would recommend that those who were unable to attend the Digital Week visit www.designinmentalhealth.com, and access the on-demand content. This includes both the main presentations, and manufacturers presenting on innovative products."
Other News